Tehran (ecoideal) – Italian energy company Eni and National Iranian Oil Company (NIOC) signed a memorandum of understanding on Tuesday for feasibility studies on the development of an oil field and a gas field.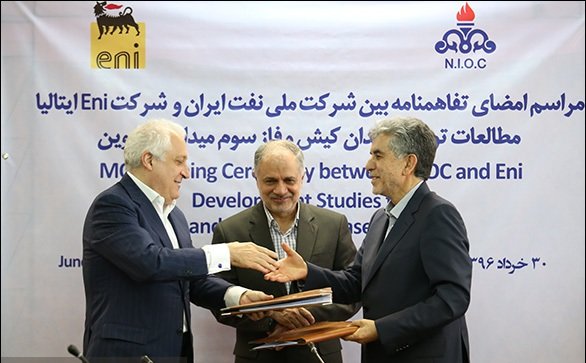 The agreement was signed in Tehran for studies on the Kish gas field and the third phase of the Darkhovin oil field in southern Iran, Reuters reported.
"Eni's performance and pace of work have been outstanding in Cairo (Egypt) and the Mediterranean region. They are in a good position to study the Kish and Darkhoveyn fields," Gholamreza Manouchehri, NIOC's deputy for development and engineering said on Tuesday.
Eni will have six months to study the fields and submit its development proposals.
Royal Dutch Shell and Russia's Gazprom have signed similar agreements to study the Kish field. Philippines' state oil company, PNOC, and Ghadir Investment Company, a subsidiary of Bank Saderat Iran, are separately surveying the Darkhoveyn deposit.
"The Kish gas field is a suitable project for Eni because the company's expertise fits the bill," Eni's chief upstream officer, Antonio Vella said.
Eni was involved in the development of several oil and gas projects in Iran before a series of US-led sanctions barred international oil corporations from investing in the country.
The projects that the Italian energy giant was involved in Iran included the development of Phases 4 and 5 of the country's South Pars oil field as well as the Darkhoveyn, Doroud and Balal oilfields.
Eni is also active in exploration and production sector as well as downstream projects, including refining and marketing of petroleum products.
It is one of the world's major oil and gas contractors in engineering, construction and drilling projects both offshore and onshore.
An Iranian oil official said this month that Eni was also interested in the tender for development of the Azadegan oil field in southern Iran.
End Item
Source: I S N A